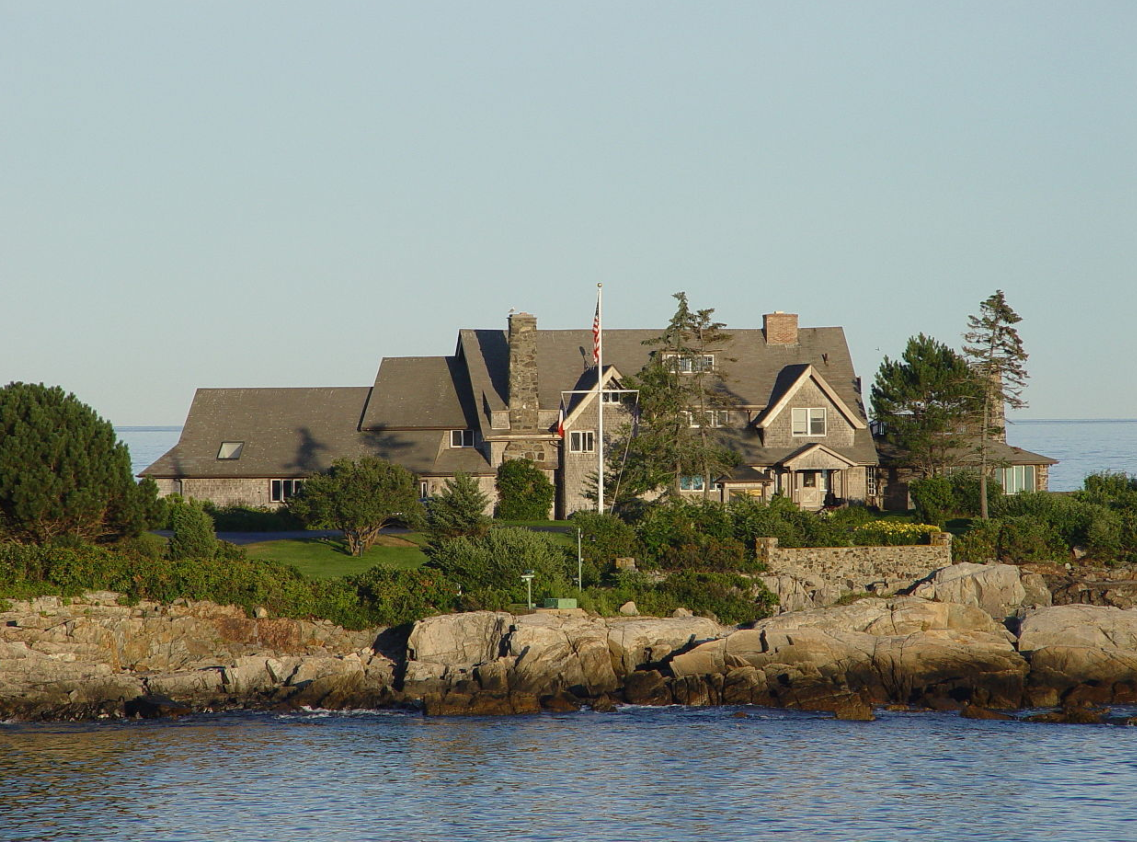 Walker's Point Estate (or the Bush compound) is the summer retreat house of the Bush family which served as the Summer White House of George H. W. Bush, the 41st President of the United States. It is located along the Atlantic Ocean in the northeast United States, on Walker's Point (previously known as Point Vesuvius and home to a Kennebunkport city park called "Damon Park").
Walker's Point juts out into the ocean in southern Maine, in the town of Kennebunkport, approximately midway between the cities of Portland, Maine, and Portsmouth, New Hampshire. The property has been a family retreat for more than a century, starting with Bush's maternal grandfather and great-grandfather.
The estate was purchased in the late 19th century jointly by Bush's great-grandfather David Davis Walker, and his son, St. Louis banker George Herbert "Bert" Walker. Both built mansions on the point in 1902. D. D. Walker's mansion has since been torn down. In 1921, Dorothy Walker and Prescott Bush were married, and Bert Walker built a "bungalow" on the Point and gave it to them as a wedding present. When Bert died in 1953, his son, George Herbert Walker Jr. ("Herbie"), purchased the property from his father's estate. It was not willed to him. Upon the death of Herbie in 1977, the property again went up for sale and was purchased by Herbie's nephew, George H. W. Bush. The estate has since remained in the Bush family.
President Bush spent much of his childhood at the Kennebunkport estate. As an adult, Bush, his wife Barbara, and their children George W., Jeb, Marvin, Neil, Dorothy, and Robin spent most summers at the estate. The estate has been a backdrop of family weddings, holidays, and receptions. While at the "Summer White House," Bush hosted world leaders including Margaret Thatcher and Mikhail Gorbachev for informal and private meetings. As a young man, Bush relocated to Houston, Texas; eventually the Bushes maintained a working residence in Tanglewood, where they spent most of their time.
George H. W. wrote of his memories there to Portland Magazine in 1997 after reading the article "Inventing the Campbells." The Campbells were the heirs to the Palm Beach clothing fortune and had a home in the Kennebunks. "I really enjoyed that article about the Campbells by Colin Sargent, July/August 1997). I remember Connie, Babs, and Bill—remember them well and very favorably. Connie was the glamour girl, all right. When she would flash by in that neat little Chris Craft, blonde hair flying, all us little guys, who were madly in love with her—from afar, that is—used to sigh and dream. We would hang around hoping that this the most glamorous of women would give us a ride in that flashy boat. Barbara was a wonderful girl, too. Just my age—so my friends and I were not quite as intimidated by her as we were by the slightly older Connie. Anyway, your story brought back many happy memories … President George Bush, Houston, Texas"
Bush's son, the 43rd President, George W. Bush, visits with family in Kennebunkport several times a year. His "Summer White House" also known as the "Western White House," was the Prairie Chapel Ranch near Crawford, Texas.